This post contains affiliate links. You can read my full disclosure policy here.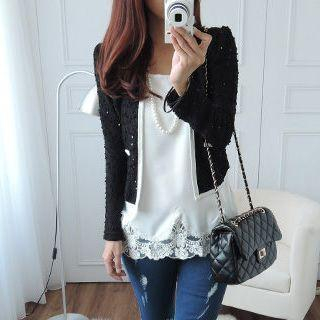 Lace-Hem Tank Top at YesStyle
Today as I was getting dressed I put on a tank top with lace trim on and then layered a couple other shirts over that. Lace tank tops are a wardrobe staple for me. I wear them year round, not just in the spring and summer, but as the weather gets colder I add another layer or two over them. So I am wearing them in winter and fall too. I love layered looks and like looking at websites and blogs of Japanese street fashion for inspiration, especially more mori girl or dolly kei...even though my own style is a lot more subtle than those looks.
I especially like tank tops with lace at the bottom as well as at the top. I like having that lace peeking out and decorating the bottom of whatever shirt or sweater I am wearing over it, and if it has lace at the neckline and the shirt I am wearing over it has a v-neck or scoop neck it adds a decorative touch there too. In cooler weather they also add an extra bit of warmth.
I don't wear them every day, but I do wear them often. In fact, I wish I had more.
Are lace trim tank tops part of your wardrobe?