This post contains affiliate links. You can read my full disclosure policy here.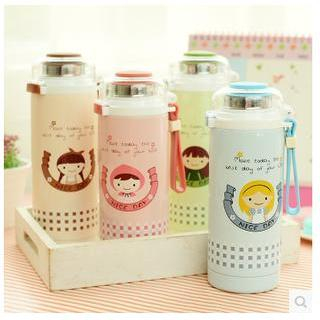 How fun are these
thermal bottles with cute girl illustrations
on them?
I love herbal teas, especially during cold weather, and these would be fun insulated beverage bottles to keep my tea warm. They of course would be good for coffee or cocoa as well and they can even keep liquids cool in warmer months.
There are four styles to choose from. Blue with a girl with blond hair and a headband. Green with a girl with brown hair and bangs/fringe. Brown with a girl with brown hair in braids and cute hair bow. And pink with a girl with brown hair and a pink hood (sort of like red riding hood)...very cute. They all say, "Make the best day of your life" and the words "Nice Day" on the banner around the girls. I think I like the pink or brown one best.
Not all of the colors are available anymore...except...I realized something. If you go to the website and search for "vacuum flask" (which apparently is another term for "thermal bottle") then you can find the same style of bottle, but sold by a different company. The price is slightly higher, but if the style you wanted is not available at the first link then that might be worth paying a couple more dollars. And you might find some other styles you like even better. The best words to search for these on this site are "thermal tumbler" and "vacuum flask."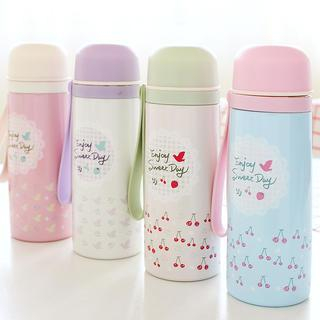 Speaking of which, here are some other cute ones I like. These pastel thermal bottles say
"Enjoy Sweet Day"
on them over a sort of lace doily like background. Some have a cherry pattern on the lower half, and some have another pattern on them but I can't tell what it is...maybe birds?
On the same page they also show some with funny and cute animal designs. But I like the Sweet Day ones more. Alas, you can't choose which color you will get. It just says, "Color chosen at random." I think I'd like all of them, but there are some I'd prefer more than the other.
Both kinds of bottles shown here have straps that look like they are perhaps made of silicone and look quite strong and convenient to carry them by.