This post contains affiliate links. You can read my full disclosure policy here.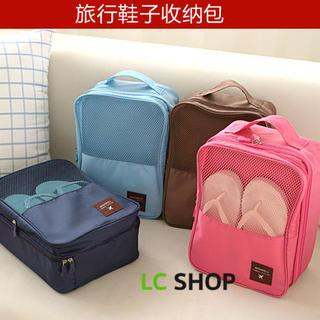 I've been thinking of making some simple shoe bags for myself, since I don't like just putting them in my suitcase with all the other stuff so the soles of the shoes (which have come into contact with who knows what) can brush up against the clothing and other things in the suitcase. I have been just putting my shoes in plastic grocery bags, but that doesn't work out so well. Hence the plan to sew some simple drawstring bags or something out of cute fabric instead.
But just now I saw these
clever travel shoe cases
. You can see in this picture how on the outside there is a mesh section for flip flops or slippers. When you open it up there are two more sections. So basically this one case has sections for three pairs of shoes. Or you could use the pockets/sections for other things like toiletries.
Zippers keep everything closed up so things don't fall out. A handle on top makes it easy to grab and carry. And it has some sort of stiff board or something that can be used as a divider and to provide some structure (which would better protect the shoes inside from getting squashed). Having this would make my suitcase so much more organized. Although I wonder if it would maybe take up a little more room too. They would also be great for organizing shoes or other sundries at home.
There are a handful of reviews on the site about these. Most are very positive. The only somewhat negative review states that the shoe case is smaller than she expected...but the actual dimensions are listed on the site. So be sure to check those out.
The available colors are magenta, coffee, light blue and dark blue. At the time that I wrote this they were 10% off too...but they might not be on sale by the time you read this though.