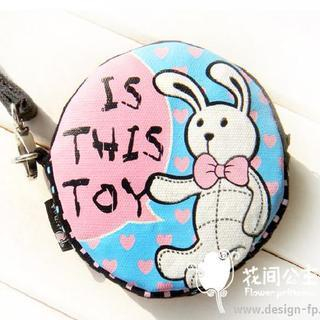 This is a cute little
bunny coin purse
...well, maybe large coin purse would be better as the description says it has a diameter of 10 centimeters (just a little less than 4 inches across). Most coin purses I have owned were smaller.
It has two roomy looking compartments, both of which have zipper closures, and a wide strap to hold it by.
On the front is this cute bunny (with odd stitches...it's the only thing I don't like about the illustration as it makes it look more like it has the body of a turtle to me) with a pink bow, and a large speech bubble that says, "Is this toy," in a childlike scrawl. To me it looks like the rabbit is reaching out and has a questioning look on its face. Maybe it is about to ask, "Is this toy...loved?" Anyway. The background is a lovely blue with pink hearts. The backside has an illustration of a pink button with stitches.
They also have another style with a
teddy bear with a blue bow
on it instead, and a blue background with yellow flowers. It doesn't have the speech bubble, but it also says, "Is this toy," on it.

This post contains affiliate links. You can read my full disclosure policy here.