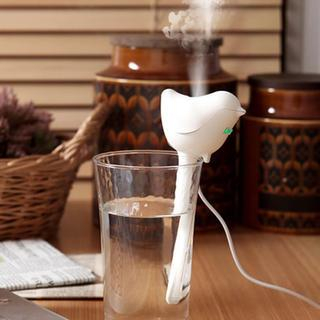 I live in a very dry part of the United States. Last year I finally decided I must buy a humidifier to help in the winter when the heaters that keep me from freezing dries out the air even further. I got something good and practical that works great. It really helps with my dry eyes, skin, breathing, sinus problems etc.
But when I was looking for one online I kept noticing cute, mini USB humidifiers to keep at the desk. Usually ones that were kawaii cartoon'ish. Well today I just saw this one. A
sweet bird, cute USB humidifier
. Out of all of the ones I have seen, this is hands down my favorite in terms of looks. In fact...I'm in love. I want one at my desk.
(I think I would rather put it in a bottle of water with a narrow neck though as I think I'd be less likely to tip it over or have dust/debris fall into the water.)
These mini USB humidifiers aren't enough to really humidify a room (especially in really dry parts of the world like where I am). They can only keep your immediate personal space humid (so it's great for an office cubicle and on the website it shows one in a bottle in cup holder being used in a car). In reviews I've read people say they really do help them with dry eyes as they work on their computers though. However, a lot of the ones I came across last year also had bad reviews for poor quality reasons. So I would really, really hope this one is good quality and would last a decent amount of time, especially for the price.
Update: I found this same thing on Amazon.com from different sellers ranging from $15 to $30, which, depending on the sellers ratings and shipping, might be a better buy. Check them out
here
.
This post contains affiliate links. You can read my full disclosure policy here.