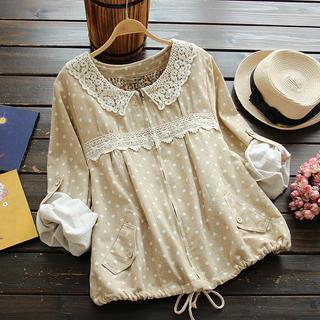 Crochet lace trim, light brown and white polka dot jacket with drawstring waist.
This is such a sweet
"mori girl" style jacket
. I imagine that not only would the girl wearing it have the hat next to it on her head, but that her hair would be braided as well. She'd probably be wearing a knee or ankle length skirt and some slip on clogs. In her messenger style bag would be a sketchbook, maybe a Moleskine journal and some Mirado pencils. She'll take a walk in a woodland like area, pause to sit on a log next to a stream and take out her pencils and notebook and begin to write.
I know I am unlikely to ever find a jacket even remotely close to this where I live. So thank goodness we can buy things like it online.
This post contains affiliate links.