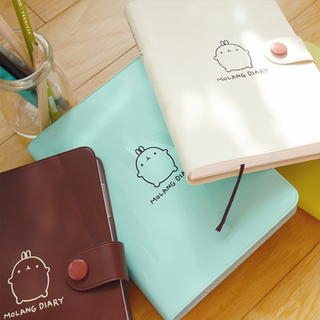 Do you know Molang?
Molang is a cute, very chubby bunny character from Korea. I first started noticing Molang on Pinterest as digital wallpapers and such. Then I started noticing Molang was getting repinned a lot. So I think he is becoming more well known. I think he is sort of like the Korean version of Hello Kitty, only a lot more droll. (Droll...that's an old fashioned word you don't hear very often anymore.) One of the things I have learned about Molang is that he loves strawberries...so he has that in common with me.
Apparently there are all sorts of Molang products out there. I recently found these
Molang Diary Planner
things at YesStyle. They have a very simple, clean design. Just an outline of Molang with the Words "Molang Diary" under him. The back side of the diary shows the backside of Molang, with his bunny tail. It's very cute.
It comes in Cream, Mint Green (which looks more blue to me than green), Yellow Green, and Chocolate Brown. It looks like it has both lined pages and calendar pages. I can't tell for sure from the pics, but I think some of the writing inside might be in Korean, but at least some of it, like the days of the week, are in English.
They also have some other Molang diaries on the site at this time. Which you can see by
clicking here
.
This post contains affiliate links. You can read my full disclosure policy here.