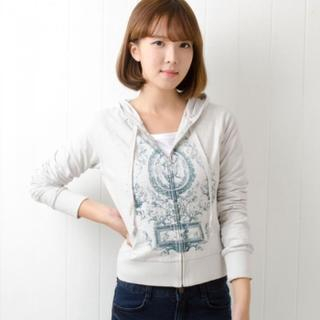 This light gray hoodie, printed with a vintage style illustration of ornate flourishes, frames and cherubs in blue, is totally my style. It somewhat reminds me of the "Skinny Minnie" shirts I've picked up at thrift stores and wear a lot. These are shirts that have vintage, "pretty grunge" style prints that are all over the entire shirt. Sadly, I think maybe those shirts are getting harder to find where I live and mine are starting to wear out and I want more.
That is part of why I am so tempted by this
vintage print zip up hoodie
, even though it's more subtle and the print is just on the front. But I'd love it anyway. I love the blend of casual with an ornate floral'ish print. And it would look so pretty with a shirt trimmed with lace and a pair of jeans.
I'd wear it so often I'd wear it out like my Skinny Minnie shirts too.
This post contains affiliate links.