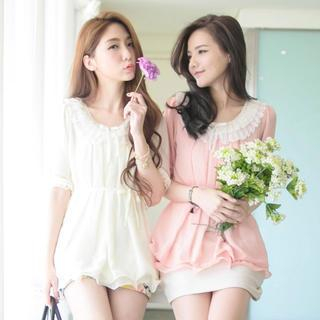 I'm not sure if I've actually ever worn anything quite as frilly and feminine as this
chiffon and lace top
. And yet, it's not an over the top frilliness. It's s light and spring or summer breezy kind of femininity.
Maybe I love this shirt (in both the off white and pink versions) because I love the photo...I love the colors in this picture, including the blue in the background. Once you mix blue and pink together I fall in love. Which means, I'd probably love this pink shirt paired with a pretty, light blue skirt...or maybe just some blue jewelry. Or maybe the light beige shirt with pink pants and some light blue jewelry mixed in. Sorry...apparently I am doing an imaginary dressing room thing in my head and trying on imaginary clothing.
This post contains affiliate links.