I was on Pinterest and had seen a cute, pastel purse. Following the link I ended up at YesStyle for a purse by a company called
Super Lover
. There I found some things I loved even more. Some Mori Girl backpacks. Not specifically made for Mori Girls (I don't think), but one's I think those love Mori Girl style would love. So whether you want one for school or work or nature hikes, here are a few that I liked that I thought had sweet charm or that basic simplicity that has a unique appeal of its own.
This polka dot backpack with a lace panel on the flap is just dreamy. I look at it and it just makes my heart sigh contentedly. Really. I know that sounds silly, but it just does. Speaking of silly (and fun), they have another backpack almost exactly like this, but instead of polka dots, it has little baby chickens printed on the fabric. It's actually quite cute, and I love the colors, but I personally don't want chickens on my clothing or accessories (I would love to own some though).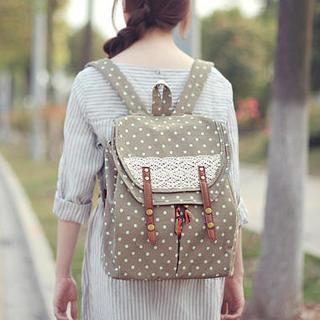 This one is just a simple, basic, but elegant and nice looking tan (the description says it's khaki, but it doesn't look khaki to me) colored backpack with piped edges. It looks like just the sort of thing to slip in a hand bound journal to write down notes and little sketches, take a short hike into nature with and enjoy a spring, summer or autumn afternoon.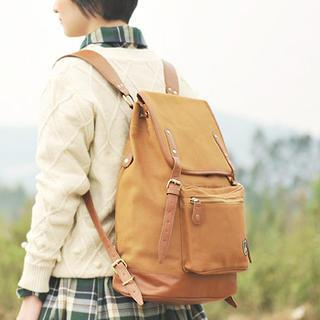 So after looking at the bags by Super Lover that made me want to find more backpacks.
The company that made this one below is called
Meringue
and they made a few backpacks that I liked the look of, including a few others done in a similar way to this one, with the pockets and buckles, but with different fabric choices. This one is creamy canvas color with gingham and lace accents.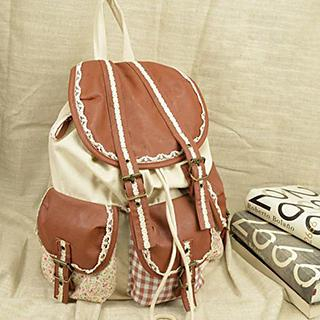 And this company called
Canvas Love
(a great name for a company that makes purses and backpacks) had quite a few bags that I liked as well. I like the simple, clean lines of the rectangle shape, with the lace pieces softening them up and making it look feminine and romantic.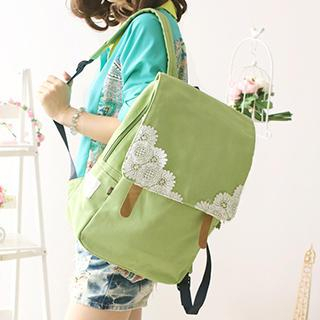 This post contains affiliate links. You can read my full disclosure policy here.