So it has been forever since I've written on this blog. I've relocated for the summer and have been busy, distracted (and even sick a few times...sinuses). So I haven't been doing much of my online "window shopping" at all.
But I recently did go to YesStyle.com and I started coming across all sorts of Mori girl inspired clothing lines on there. I don't usually deliberately start searching for Mori Girl style clothes online, I kind of just stumble across them and appreciate it when I do. (I actually do most of my shopping at thrift stores and while I pick up some Mori style stuff it doesn't make up a lot of wardrobe I think.)
This
Crochet Panel Camisole
by
Moriville
is one of my favorite things I found on YesStyle. I so very much want this.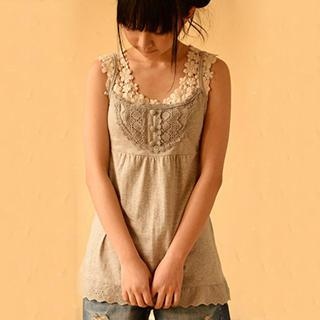 I really loved lots of stuff that Moriville had. Another Mori Girl clothing line I found online at YesStyle that I liked was called
Fairyland
. I didn't find quite as much items there that I liked, but there were definitely some cute things worth checking out.
Another I found is
Blue Rose
. I think these pink, cropped "baggy" pants trimmed with lace at the pockets and bottom hem is so super cute. They have a sort of vintage bloomers like feel?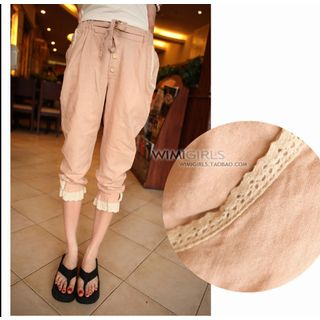 Some other Mori Girl clothing lines I found on there were.
Forest Girl
Angel Love
P.E.I. Girl
Storyland
There are probably a lot more on there than this too. Plus they always have other lines that aren't so specifically mori girl that will have an occasional piece that works for that style...which is what I've usually come across at this website in the past.
I'm not sure why I haven't come across some of these clothing lines before. Maybe I never specifically searched for the word "mori" at YesStyle before? Although I thought I had. I will be definitely be keeping my eye on these brands in the future and keeping my eye out for more.
This post contains affiliate links. You can read my full disclosure policy here.